Use date fields and created in search filter - frontend data views
This feature is part of the Visforms Subscription and not available in the free Visforms version.. It was added to the Visforms Subscription 3.4.0.
This is an additional feature to individualize the search filter in frontend data view. You must have enabled the search filters, if you want to use it. (See: The Searchbar).
Add fields of type date as filter fields to search bar
You can decide for each field of type date individually, whether you want to add it as a search filter to the search bar. This is done in the field configuration on the tab "Advanced".
Visforms will add two new search filters to the search bar by automatic action: a from filter and a to filter, with wich you can seslect the period of time for which you want to filter. It is possible to only set a lower boundery or only set the upper boundery, too.
Use the submission date as search filter in frontend data views
You can use the submission date of the form (creation date of record set) as a search filter in the frontend data views,. This option is set in the menu item configuration of the menu item, which you use in order to display the submissions. Go to the menu item tab "Form data display options" and set the option "Add created filter".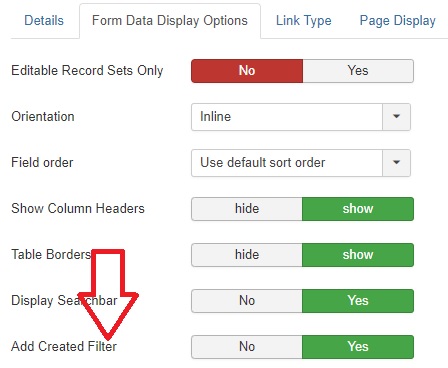 If you have created a frontend data view using the content plugin data viwe, then you have to activate a created search filter, using the proper plugin parameter (see: Parameter list)
Display of a date search filter

Please note: The concrete layout depends on your template..